The Problem


Lua C libraries built against Lua 5.1 expect the Lua 5.1 ABI, whereas C programs which use Lua 5.2 expect the Lua 5.2 ABI. These two ABIs are significantly different, meaning that 5.2 programs cannot a-priori load 5.1 C libraries unless they are recompiled for 5.2.
The Solution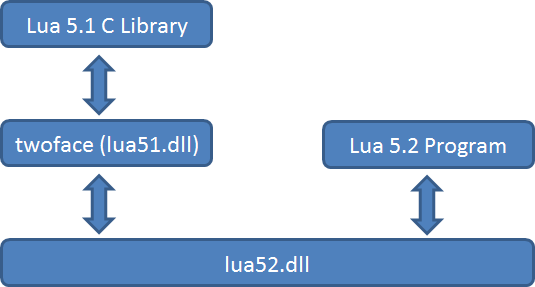 twoface is a DLL which consumes the 5.2 ABI and presents a 5.1 style ABI, thereby allowing a 5.2 program to load most 5.1 C libraries without the need for any recompilation.
Known Limitations
twoface is Windows-only, as it relies on there being a non-flat namespace for symbols.
Some 5.1 C libraries, such as pluto, rely on the layout of Lua 5.1's internal data structures. Such libraries will not work with twoface.
Lua bytecode and source code are not translated by twoface; if a library is mixed C and Lua, then the Lua part of the library still needs to be 5.2 compatible.
In some areas, the language semantics have significantly changed between 5.1 and 5.2. twoface tries to patch over a lot of the differences, but it can't do too much.
Differences to the actual 5.1 ABI
Emulation of LUA_GLOBALSINDEX can increase stack usage by one slot, which will cause problems for libraries which (wrongly) already used all of Lua's "internal" slots.
Per-thread environments are gone; performing lua_getfenv/lua_setfenv on threads instead gets/replaces LUA_GLOBALSINDEX.
lua_setfenv fails on C closures which weren't created by twoface, and on Lua functions which don't report an _ENV upvalue. For such functions, lua_getfenv will return something, but it might not be accurate.
Due to sharing of upvalues between closures, lua_setfenv on a Lua function may affect more than just one closure.
lua_load expects Lua 5.2 source code.
lua_load and lua_dump work with Lua 5.2 bytecode rather than Lua 5.1 bytecode.
The debug event LUA_HOOKTAILRET has been swapped for LUA_HOOKTAILCALL.
Explicitly calling luaopen_base won't load the coroutine library.